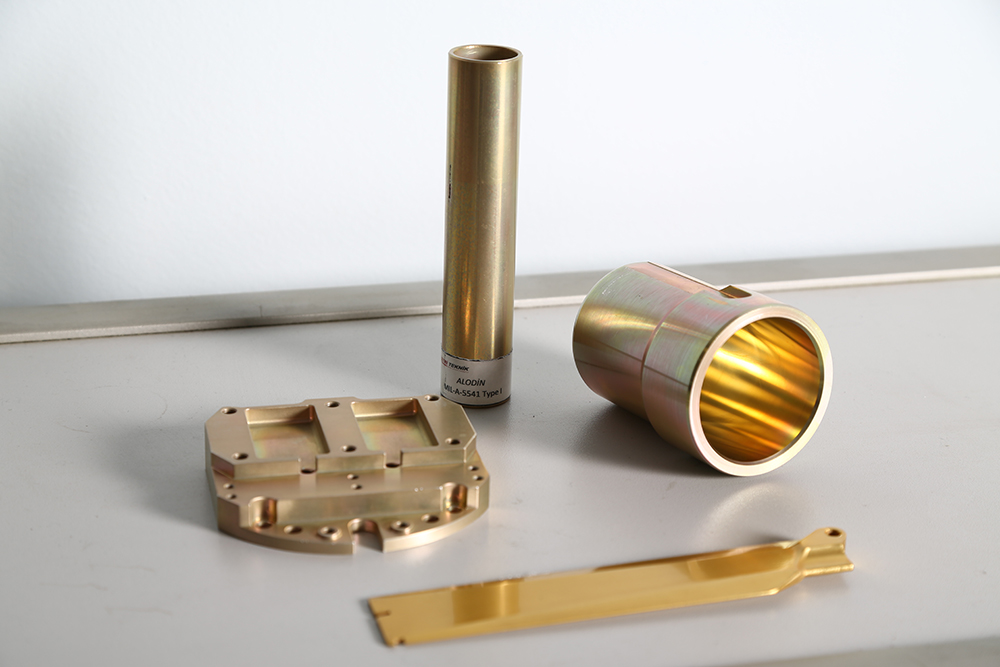 Aluminum Chromate Coating process is creating a thin surface over aluminum and aluminum alloys to increase corrosion resistance, keep electrical conductivity, increase adhesion over surfaces to be painted and to add a decorative look. This process is also called Aluminum Chemical Conversion Coating and/or Alodine Coating. Coating can be done from dark yellow to light yellow, light yellow to transparent according to the type and class. Cr+6 and non-Cr+6 containing solutions are available. Applications are made according to the customer needs.
Aluminum Chromate containing Cr +6 ``Yellow Alodine``
Performance Tests
Changes according to required type and class requirements. Coating performance is calculated by Surface Appearance, Coating Weight, Paint Adhesion, Wet Adhesion, Electrical Contact Resistance and Corrosion Resistance Test.
Related Standards
MIL-C-5541, MIL-DTL-5541, ASTM B449-93 (These are the main international standards, it can also be customer standards as well.)
Aluminum Chromate not containing Cr +6 ``Transparent, White Alodine``
EST Surface Treatment offers +3 valence Chromate Process (TCP) which complies with the Restrictions on Hazardous Substance and Waste Electrical and Electronic Equipment Directive. This coating doesn't contain +6 valence chromes and fully complies the MIL-DTL-5541 standards. (For all aluminum alloys except 2000 series) Coating is light in color and contains little bit of blue hue. Note: Curing time is 24 hours.
Benefits
Advanced corrosion resistance
Advanced adhesion ability
Electrical conductivity
Eco friendly